Bitcoin Turns in Top Performance for 2021, Outperforming Gold, Commodities and Other Major Asset Classes
Bitcoin (BTC) is the best-performing major asset class for three consecutive years, topping gold and large equity markets, according to data compiled by Compound Capital Advisors CEO Charlie Bilello.
In 2021, Bitcoin recorded a return of 66.5%, surpassing the gains generated by the commodities index (41.4%) as well as the 40.5% profits printed by the US real estate investment trusts.
Bitcoin also performed better than the US Large Caps, an index that tracks the performance of the S&P 500, and the Nasdaq 100, an index comprising of the 100 largest companies trading on the Nasdaq stock exchange. The two indices recorded returns of 28.7% and 27.4% in 2021, respectively.
Bitcoin's stellar performance this year comes after BTC printed gains of 301% in 2020 and 95% in 2019.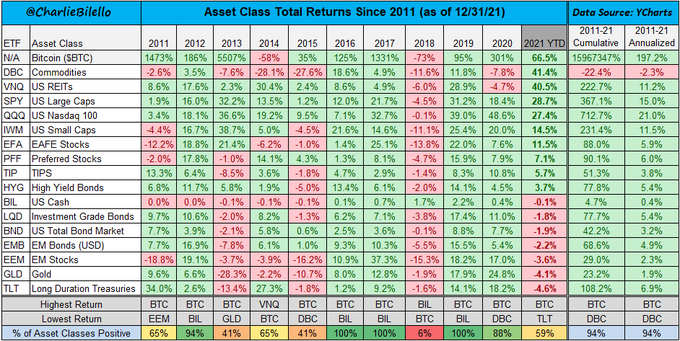 The returns of the leading crypto asset in 2021, however, pale in comparison to other digital assets such as Shiba Inu (SHIB), Polygon (MATIC) and Terra (LUNA).
Meme coin Shiba Inu gained 3,413,999,900% in 2021. Blockchain scaling solution Polygon rose 14,091% last year while decentralized finance payment network Terra rose 12,954% over the same timeframe.
Other cryptocurrencies that performed relatively better than Bitcoin include Solana (SOL), a scalable blockchain designed to facilitate the development of decentralized applications, and meme crypto asset Dogecoin (DOGE). In 2021, Solana and Dogecoin recorded gains of 11,146% and 3,602%, respectively.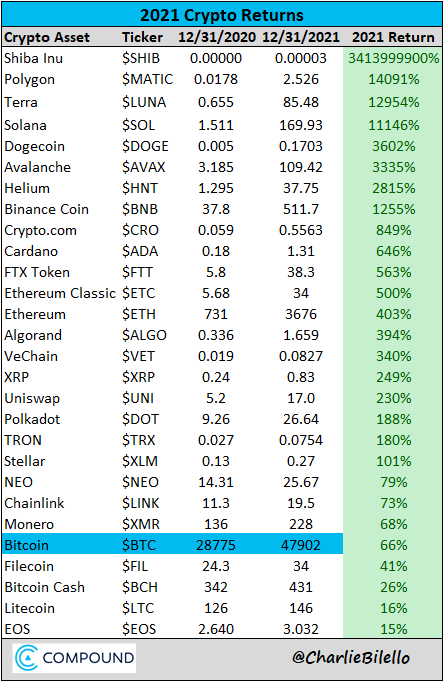 Charlie Bilello also tracks the performance of the crypto markets and says that the valuation of all digital assets has grown from $10.6 billion at the end of 2013 to $2.36 trillion as 2021 expired, a staggering 22,164% rise in eight years.
"Total Crypto market value, end of…
2013: $10.6 billion
2014: $5.5 billion
2015: $7.0 billion
2016: $17.5 billion
2017: $590 billion
2018: $128 billion
2019: $190 billion
2020: $768 billion
2021: $2.26 trillion."